Looking for a luxury SUV in Miami? We won't beat around the bush. The new Bentley Bentayga outshines most rivals, including the 2021 Range Rover, in virtually every possible scenario.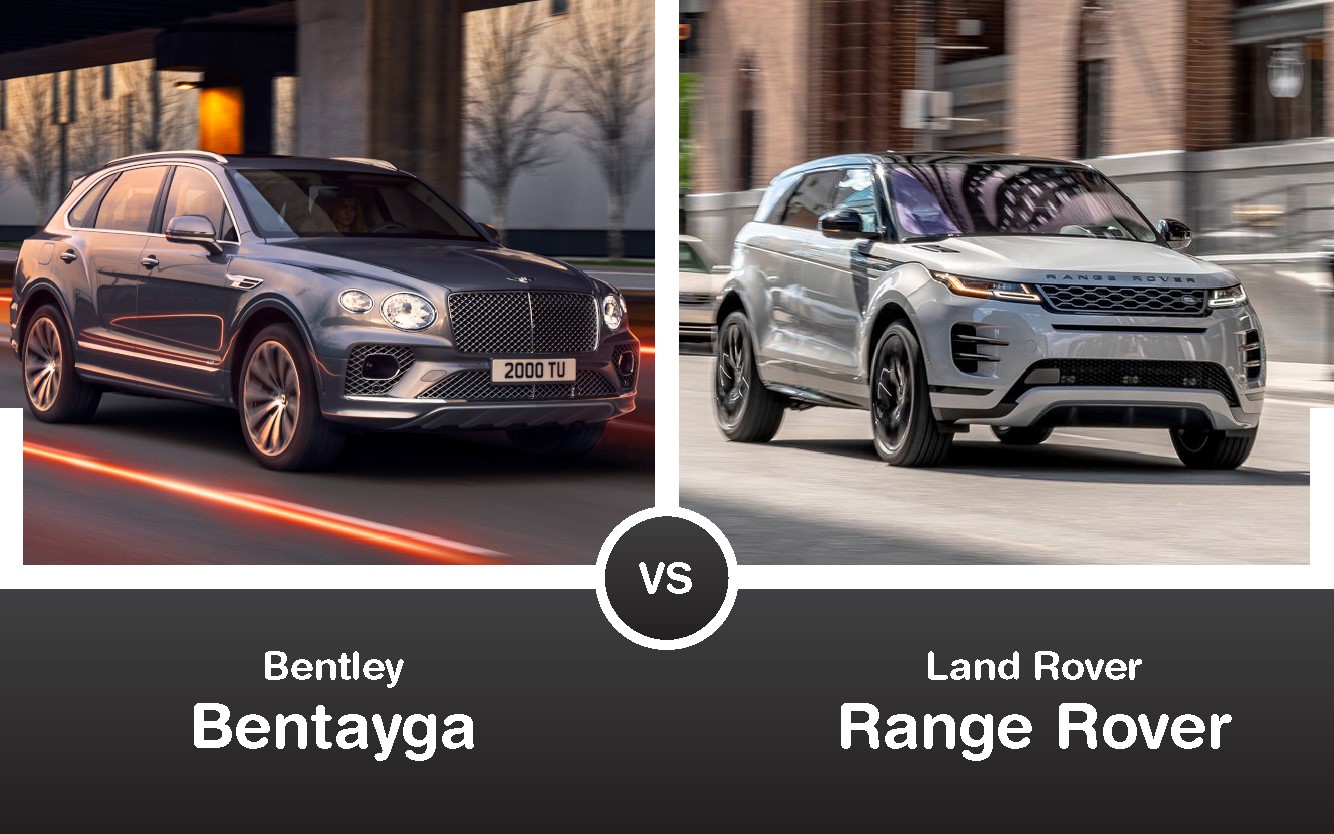 In a race, Bentayga offers near-instantaneous torque for uber-surprising speed that beats the Land Rover (and rivals even the purest of all-electric vehicles). It's got every piece of technology you'd expect from a Bentley, and some you wouldn't have even fathomed, like a rear-row cooler box. And with available 3rd-row pop-up seats, Bentayga plays the role of full-size luxury SUV deftly. Heck, even the name "Bentley Bentayga" rolls off the tongue better than "Land Rover Range Rover."
But we digress. Read our 2021 Bentayga vs. 2021 Range Rover comparison below to see why we think the Bentley luxury SUV is…well, so darn good.
The Need for Speed
Bentley Bentayga's standard 4.0-liter twin-scroll turbo V8 sings a siren's song every time foot hits the pedal. And because the V8 delivers 568 pound-foot of torque virtually instantly, it doesn't take long to become hypnotized by this songstress's soothingly sultry voice—just 4.4 seconds are needed to meet that savory 60-mph mark.
Upgrade to the Bentayga Speed for even more jungle-rumbling power. It's driven by a best-in-class direct-injected W12 turbo, which makes 634 horsepower and 664 pound-foot of torque, that gets a top speed of 190 mph and returns a 0-60 time of 3.8 seconds. The new Bentayga Speed is quite possibly the fastest, most life-affirming SUV in the segment, if not the world.
| | | |
| --- | --- | --- |
| | | |
| Bentley Bentayga V8 | | Land Rover Range Rover |
| 4.0L twin-turbo V8 | Standard Engine | 3.0L P360 i6 MHEV |
| 549 hp (542 bhp) | Horsepower | 355 hp |
| 568 lb.-ft. | Torque | 365 lb.-ft. |
| 4.4 seconds | 0-60 | 6.8 seconds |
| 180 mph | Top Speed | 130 mph |
| | | |
| --- | --- | --- |
| | | |
| Bentley Bentayga Speed | | Land Rover Range Rover |
| 6.0L twin-turbo W12 | Standard Engine | 5.0L P565 V8 GAS |
| 634 hp (626 bhp) | Horsepower | 557 hp |
| 664 lb.-ft. | Torque | 516 lb.-ft. |
| 3.8 seconds | 0-60 | 5.2 seconds |
| 190 mph | Top Speed | 130 mph |

The new Range Rover features 6 engines with top speeds of 130 mph, including its standard 3.0-liter i6 and range-topping 5.0-liter V8, though none of them match up to the dynamic duo of Bentley motors. Not even the top-of-the-line Range Rover V8, which can break the 60-mph mark in 5.2 seconds, holds a candle to the standard Bentley V8.
If you dream of being Maverick, the all-new Bentayga SUV is your F-18.
4/5/7 Seat Configurations
With the 2021 Range Rover, you get your standard 5-seat SUV with a luxury-vehicle badge. Good. Great. Splendid. But what if there were another option?
That's what Bentley's 2021 Bentayga offers: options. In fact, it's the only SUV in the world that can be custom-built with 4, 5 or 7 seats, making it either a compact luxury SUV or a full-size luxury SUV—whichever you prefer.
4-Seat Configuration – For the ultimate in comfort, build a Bentayga 4-passenger model with bucket seats. Both rear riders are granted front-seat accommodations like USB charging ports, a bottle cooler, ample legroom, and convenient storage compartments built into the driver-centric center console.

5-Seat Configuration – It's the standard seating set up for the midsize SUV class, but there's nothing standard about the Bentayga. The same soft-touch trimmings found in the 4- and 7-seat Bentayga are in the 5-passenger model.

7-Seat Configuration – Gain a little additional room in the way, way back for 2 more passengers with the pop-up 7-passenger Bentayga. There's plenty of space for adults to stretch out on short trips.
Of course, having more seats than the Land Rover SUV isn't all the Bentayga boasts. In the front, drivers and passengers are treated to Bentley's Front Seat Comfort setup. This includes ventilation, 6-setting massage functionality, and 22 different adjustable cushions and backrest settings.
Not Your Typical Rear Entertainment System

Up front, Bentayga's 10.9-inch touchscreen slaps around Land Rover's 10.0-inch Touch Pro Duo, offering an all-new infotainment system with wireless Apple CarPlay and Android Auto, navigation with satellite maps, digital TV, and a brighter, richer display. But it's in the second row where Bentley's SUV truly displays is its technological prowess.
Like the Land Rover, the Bentayga can be had with two independent touchscreens for rear passengers. Bentayga's 10.2-inch tablet-sized screens are a smidge bigger than the Range Rover's 10.0-inches—not a huge difference-maker in the grand scheme of things. However, upon swiping through these rear entertainment systems, we're reminded that things are seldom what they seem.
With the Range Rover rear entertainment system (RES), back-row riders can monitor trip progress (distance and time to destination) and watch DVDs on the pair of articulating HD screens—seems like a typical luxury SUV RES. But you buy a luxury SUV in Miami to enjoy every minute of every trip, no matter which window you're peering out of. Settling for anything typical would be a disappointment.
Passengers in the Bentayga are offered more than the typical RES fare. Main infotainment functions, like radio and navigation, can be pulled up on the 10.2-inch touch displays, as can games, video conferencing, media streaming, and more. Thanks to a rear Touch Screen Remote, passengers can also control the panoramic roof blinds and mood lighting—a first-ever option in a Bentley crossover.
Whatever your personal tastes and wherever you drive your new Bentayga, one thing's for sure: you won't want to be anywhere else on Earth.
Interested in building or setting up an in-person meet-and-greet with a new Bentayga for sale in Miami? We can help you there. Contact Bentley Miami at 786-577-5225 to speak with a team member from our luxury car sales department to go over all your financing, purchasing and customization options.