With a GT (grand tourer), everything boils down to driving experience. That experience, however, is quite subjective. Do you want a sportier ride that can tackle track and run-of-the-mill asphalt? Do you prefer a luxurious cockpit that features every conceivable bell and whistle? Or is a mixture of both more your cup of tea?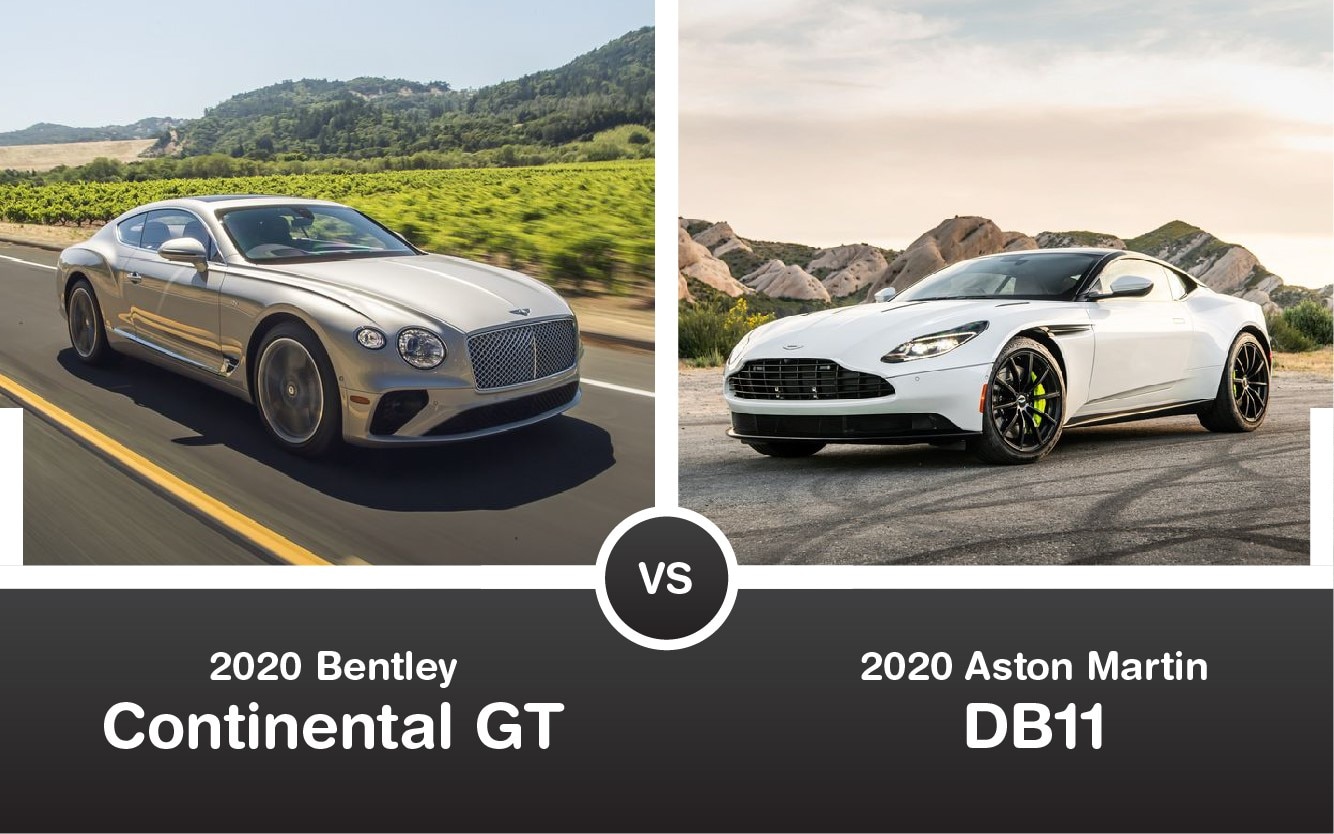 In any case, your short list of possibilities should probably include the Bentley Continental GT and Aston Martin DB11. These exotic cars are the best of Britain, offering more extravagant features and power than your typical luxury vehicle. But which one will deliver your ideal driving experience?
It's summer in Miami, and I've got two two-hundred-grand grand tourers to play with. Here's how the new Bentley Continental GT Convertible compares to the Aston Martin DB11 on the road.
Aston Martin DB11
The new Aston Martin DB11, dressed in a boisterous Lime Essence tux, is up first.
It's an elegant 2+2 exotic car, to be sure, with a great deal of pizazz in its cabin. Heated front leather seats are comfortable and as colorful as this uber-luxury car's exterior, and an upscale heated leather steering wheel contours to and fits the palm like a glove. The upgraded 1000W Bang & Olufsen audio system sounds so good, it could probably cure Beethoven's deafness.
However, I do notice some inconsistencies and irregularities in the cabin design.
The DB11's door panels are slightly misaligned, and the materials surrounding the gear shift look and feel a bit tacky, almost as if someone accidentally tossed a tablespoon of Ford Fusion into the mixing bowl. It's not terrible, but it's noticeable. I expected more from a bespoke, $200,000 car.
Aston Martin's 8.0-inch infotainment display, which functions via a rotary knob and center touchpad, is easy on the eyes and simple to use, though it's slightly long in the tooth. It lags considerably behind newer systems, like the setup found in the rival Bentley Continental GT.
I also found myself searching high and low for a place to stow my mobile – my work tablet and myriad note-taking tools already called dibs on the center console cubby – so it stayed in my pocket for the 90-minute chug northward. Storage space isn't any more generous in the trunk, as the DB11 grants just 9.5 cubic feet of room for golf clubs and the like, which is significantly less than the Continental GT's 12.64-cubic-foot trunk.
How does it perform? Admirably, for the most part. On the spec sheet, the new DB11 coupe is paired with an 8-speed to make 503 horsepower and 498 lb.-ft. of torque, meaning it can reach 60 mph in all of 4 seconds. But because of its rear-wheel drive orientation, DB11's athleticism and quickness become muted by the misty sea spray emitted from Biscayne Bay. So, instead of opening up the DB11, I take the bends with caution, even as I cruise into the dealership parking lot to return the borrowed Aston.
Bentley Continental GT Convertible
Prepping for the evening drive back to the Bentley dealership in Miami, I swap my Aston Martin digs for an all-new Continental GT Convertible coated in a bright Monaco Yellow. Sliding into this open-top's driver's seat – the exclusive Cricket Ball red upholstery is stunning – and seeing its cabin's wood-grain accents and clever storage compartments, I instantly feel right at home.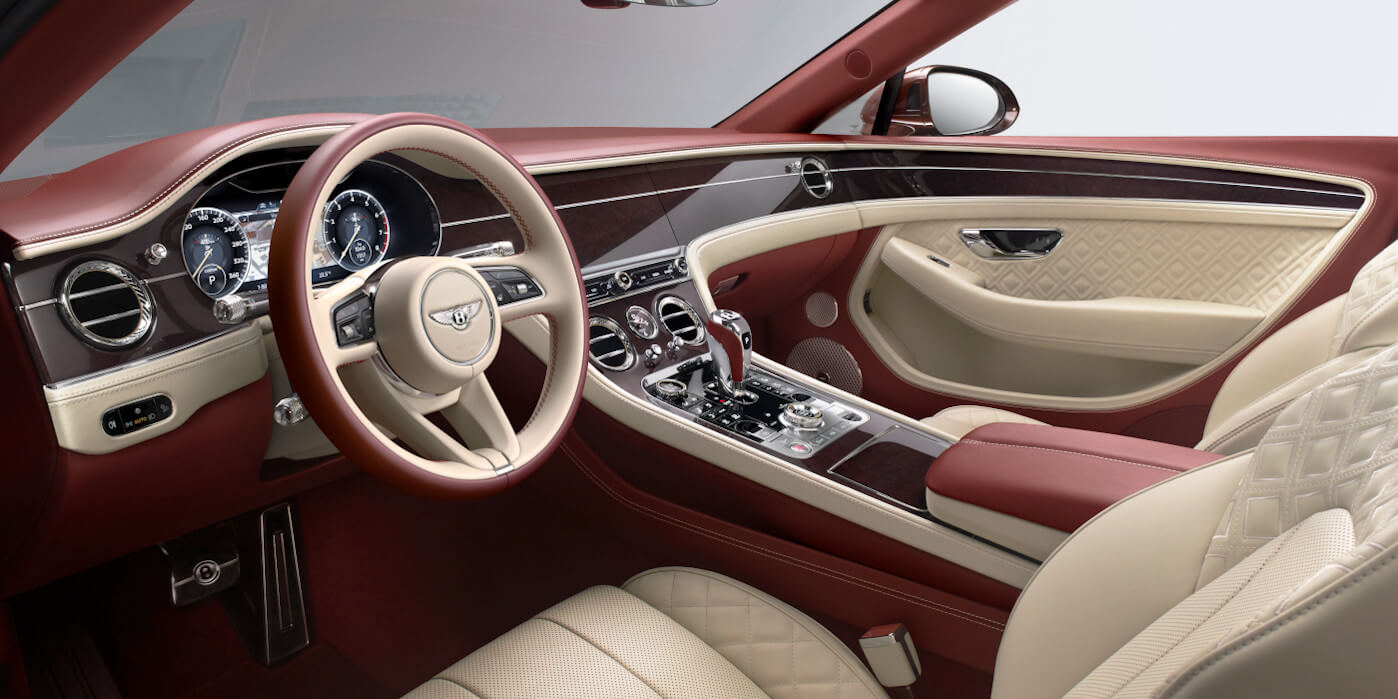 Unlike the standard heated seats inside the DB11, the Bentley Continental GT equips seats with a trio of heating modes, which are enhanced further by features like a heated hand-stitched steering wheel, heated armrests, and an optional windbreak (exterior). On this particularly chilly evening, I fall in love with the neck-warming vents that are integrated into the seat's headrest. Bye-bye, goosebumps.
This Bentley convertible one-ups the Aston Martin DB11 in tech, as well. The Continental GT comes with a gorgeous 12.3-inch infotainment display that takes up the entire top half of the center stack. It can flip inward like a secret passageway, the screen replaced by a trio of analog gauges to display outside temperature, a compass, and time. They fittingly call this nifty feature the "Bentley Rotating Display."
I thought Aston Martin's 1000W sound setup was incredible; then I was introduced to the Continental GT and its available 2,200-watt Naim audio system with active bass technology. Let's just say I no longer crave attending live concerts.
Awestruck at the Continental GT's cabin, I nearly forget the most important feature: The lid, which is lined with four layers atop a headliner of light-gray tweed. Before becoming Captain Picard to Bentley's miniature version of the USS Enterprise, I flip the switch and watch its "Z-fold" soft-top lower into a leather-trimmed tonneau cover. In just 19 seconds, my retinas are pried open by the dusk-veiled Milky Way. There's no more beautiful feature in a luxury car than a roof full of stars, after all.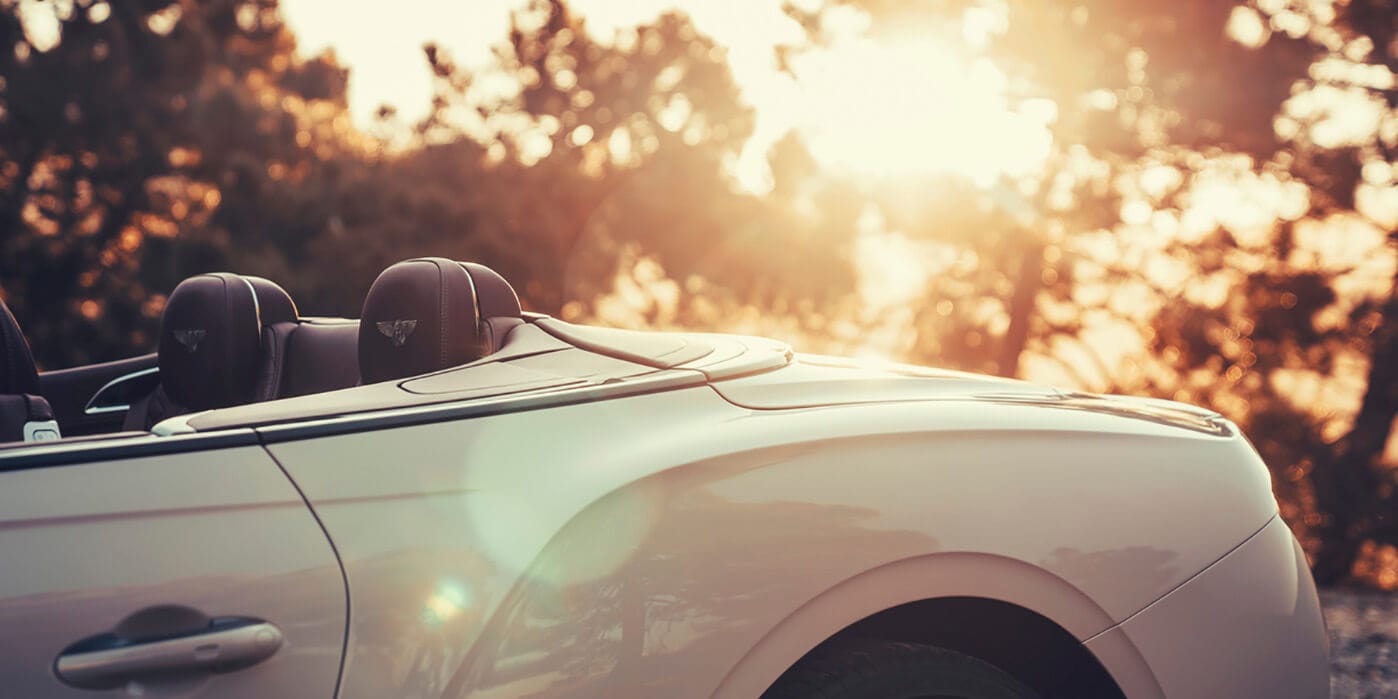 Once I finally give the green light to "engage," I'm greeted with raucous applause from the car's standard twin-turbo 6.0L W12 engine, which undoubtedly beats the DB11's standard V8. The Continental GT Convertible's powerplant unleashes 626 horsepower and 664 lb.-ft. of torque to break the 60-mph mark in 3.7 seconds. Even when revving in park, this Bentley convertible tells me that it's ready for both solid straightaways and thrilling "S" curves – and I oblige.
I thump the warp drive on, pop the GT into "Bentley mode," and let its 22-inch wheels and 8-speed dual-clutch shifter get to work. Because the Bentley GT is AWD, I don't question its ability to handle a little gravel or slickness. The first chance I get, which is on some lonesome road near the southeast side of Delray Beach, I let her rip. Even a short 3-second burst is enough for the hair on the back of my neck to go ten-hut, forcing me to up the power on those seat neck-warmers.
I pull into the Bentley Miami lot, power down the Continental GT, and gaze up. The sky is now a starlit abyss, and I feel like I've explored every corner of the galaxy like Jean-Luc and the crew – at least, for the evening. Tomorrow…well, that's another day.
By the end of my little adventure, I'd spent a total of 3 hours driving the Continental GT on what should have been a 90-minute trek back to Miami. I think it's safe to say that the Bentley Continental GT Convertible beats the Aston Martin DB11 as the perfect summer grand tourer.
About Our Miami Bentley Dealership
Serving shoppers from Aventura to Hialeah and beyond, our exotic car dealership in Miami offers high-end luxury on wheels. Contact our Bentley sales team to custom build your new Bentley Continental GT or ask about our selection of pre-owned foreign cars for sale in South Florida. Call us at 786-577-5225 today!